Halsey Field House, United States Naval Academy, Annapolis, Maryland
A General Contractor Serving Washington, DC Metropolitan Area Since 1951
2008 AGC Washington Contractor Award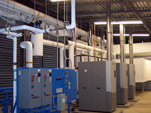 U.S. Post Office, Shady Grove Distribution Center Upgrades
United States Postal Service, Gaithersburg, MD
OVERVIEW
The Shady Grove Distribution Center Upgrade project was a design/build renovation performed for the U.S. Postal Service (UPS) in Gaithersburg, MD.
Prior to the project, the existing facility was plagued by power outages and problems associated with air temperature and systems quality—due to extra, haphazardly coordinated equipment installed in USPS Distribution Centers after September 11, 2001.
The John C. Grimberg Co. (Grimberg) and its design partner upgraded mechanical and electrical systems throughout the full-scale package handling/sorting/distribution center, providing a hyper-efficient and fully integrated infrastructure, while also allowing for continuous operation throughout the entire facility.
Notable Features
Grimberg successfully replaced the core of the building's HVAC system, installing two new roof-mounted, 400-ton air-cooled chillers and 14 new air handling units (AHUs), which distribute cooled and heated air throughout the 105,000-square-foot facility. Electrical upgrades included a new PEPCO service and distribution system. Grimberg also conducted hazardous materials (HAZMAT) removal and disposal during the phased project.
Each system incorporated state-of-the-art technologies that will serve the USPS facility at Gaithersburg for decades. These systems included a new mechanical penthouse addition, variable frequency drives, an automatic temperature control system, two boilers, hot water and chilled water pumping stations, and two computer room 22-ton AC units.
The Shady Grove contract posed significant safety challenges, including occupant safety hazards, and Grimberg conducted extensive activity hazard analyses and critical lift submittals. There was also significant work inside the building's high-bay areas, with fall risks during ductwork, mechanical insulation, and electrical activities.
The project met the latest indoor air quality and environmental standards stipulated by Leadership in Energy and Environmental Design (LEED) programs. Grimberg installed HVAC systems that used environmentally friendly refrigerants and used steel and other materials that met the recycled content and regional manufacturing requirements sought by LEED.