Halsey Field House, United States Naval Academy, Annapolis, Maryland
A General Contractor Serving Washington, DC Metropolitan Area Since 1951
2003 AGC Merit Award Winner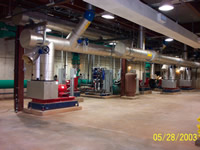 NIH Power Plant – Poolesville Campus
National Institutes of Health, Poolesville, Maryland
OVERVIEW
The NIH Power Plant is a 60,000-square-foot power plant and control center, designed to provide utility service to the entire 512-acre NIH Animal Center campus. This large mechanical and electrical project consisted of a three-story steel building and concrete tunnels for steam distribution serving the entire NIH campus, including many laboratories in over twenty buildings.
Serving as prime, general, and mechanical contractor, the John C. Grimberg Co. (Grimberg) constructed this complex power plant to increase the electrical capacity of the entire campus and provide for the expansion of the greater campus utilities without interruption to NIH operations.
NOTABLE FEATURES
Grimberg delivered numerous mission-critical notable features to each campus facility, including extensive data centers, major design/build coordination plans, landmark power and electrical distribution requirements, and major mechanical systems.
Of particular note, Grimberg constructed the power plant's electrical power system, which includes 13.8 KV primary electrical distribution systems and four state-of-the-art emergency power generators, all associated equipment, multiple motor distribution and pressure switches, multiple network transformers, and mission-critical continuous power supply units serving operations throughout the entire campus.
The project included extensive site utilities, boiler and chiller work, and controls. Utility rooms included an extensive filter system with large louvers and dampers. Grimberg installed a large ventilation hood on the roof, along with exhaust stacks for boiler and steam, with cable support. The contractor also delivered a complete fire protection (sprinkler) system with new fire hydrants, and a new fire alarm system able to be remotely monitored from NIH-Bethesda.
In addition, Grimberg incorporated a complete new waste handling system for the entire site tied with a new pumping station, installation of multiple manholes for existing buildings, and a complex storm water system. The company also built infrared filtering and monitoring systems to ensure the generation of pure steam, RO systems, and chemical injection for the feed water pumping systems.