Halsey Field House, United States Naval Academy, Annapolis, Maryland
A General Contractor Serving Washington, DC Metropolitan Area Since 1951
2004 AGC Washtington Contractor Award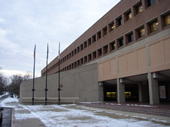 Uniformed Services University of the Health Sciences (USUHS), Phases 1-10
National Naval Medical Center, Bethesda, Maryland
OVERVIEW
This ten-phased project involved the construction of a new building addition and the complete interior demolition and renovation of two existing buildings housing laboratories, administrative spaces, and support spaces, for a combined project total of 280,000 square feet.
Serving as prime, general, and mechanical contractor, the John C. Grimberg Co. (Grimberg) devised a complex value engineering plan to decrease the amount of time needed to perform each phase by one-third, re-sequenced the ongoing schedule to accommodate campus demands, and completed the overall project ahead of schedule and under budget.
NOTABLE FEATURES
The multi-phased project included the renovation of extensive fire protection, sprinkler, alarm, mechanical, telecommunications, HVAC, electrical, water distribution and chilled water piping systems. Grimberg also completed the construction of a new mechanical room to house new air handling units, new chilled water and steam from an existing mechanical room to the new mechanical room and other mechanical rooms on each floor, and the installation of new pumps, chemical systems and steam stations.
Furthermore, Grimberg's work included saw-cutting new penetrations in the multi-floor structure for the new ductwork risers and sprinkler systems, as well as the removal and replacement of all ceiling systems including new and relocated sprinkler systems directly over the top of existing occupant work space. The work spaces had to be protected while construction was performed and restored to functionality at the end of each shift.
In addition, the contractor performed extensive hazardous material abatement and laboratory waste handling systems, as well as installation of new air handling units and temperature controls for the highly sensitive research laboratories. The laboratory work included extensive process piping, new laboratory grade exhaust filtration systems, casework, steam converters, waste pumps, and instrumentation.