Halsey Field House, United States Naval Academy, Annapolis, Maryland
A General Contractor Serving Washington, DC Metropolitan Area Since 1951
2006 Honorable Mention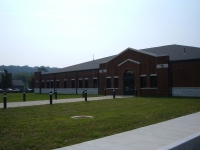 Security Forces Squadron Operations Facility for NAVFAC Washington at Bolling Air Force Base
New Construction Under $100 Million
New construction of a one story office, training, and storage facility for the Military Police personnel at Bolling Air Force Base, Washington DC.
The facility includes a control and base surveillance monitoring room, an interview cell and holding areas, and an armory for weapons storage. Work included extensive electrical, plumbing, fire protection, mechanical, and HVAC systems and ductwork, as well as comprehensive roofing systems and interior and exterior finish work throughout.
During the early phases of construction, Grimberg discovered flaws in the original utility and foundation designs for the project. The Company worked with the Navy and Air Force to redesign the foundation and the utilities at the lowest possible cost, help with the refunding process, and minimize the resulting delays.