Halsey Field House, United States Naval Academy, Annapolis, Maryland
A General Contractor Serving Washington, DC Metropolitan Area Since 1951
2006 AGC Washtington Contractor Award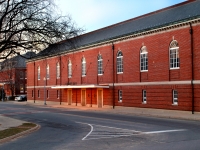 Conmy Hall Building 242 Renovation
U.S. Army Corps of Engineers, Fort Myer, Virginia
OVERVIEW
This award-winning project involved the comprehensive renovation of the historic Conmy Hall structure located at Fort Myer, Virginia.
Serving as prime, general, and mechanical contractor, the John C. Grimberg Co. (Grimberg) completed the DOD AT/FP-compliant renovation and also provided substantial added value to the Corps of Engineers throughout the project, as a result of its self-performance, scheduling, and quality control expertise.
NOTABLE FEATURES
Major interior renovation work included installation of extensive electrical, fire protection, data/communications, and mechanical/HVAC systems, including air handling units, associated equipment, and complex sound-lined ductwork fitted to a specially designed support system.
Grimberg's work also involved major architectural finishes, including the refurbishment of wood finishes and the repair/replacement of floors, walls, and ceilings, including asbestos and other hazardous material abatement. The contractor executed complex exterior structural work, including an exterior façade renovation that required extensive sandblasting and finish restoration, masonry repair, window replacement and restoration, and the replacement of doors and exterior canopies.
Grimberg also constructed an entrance/reception area as well as a bathroom, completed circulation area renovations, and incorporated extensive interior and exterior design features, including installation of window treatments, replacement of roll up doors, and replacement of exterior canopies.
Most notably, Grimberg completed the installation of world-class lighting, audio-video, and acoustical theater systems, all specially designed for presidential receptions.