Halsey Field House, United States Naval Academy, Annapolis, Maryland
A General Contractor Serving Washington, DC Metropolitan Area Since 1951
2007 AGC Merit Award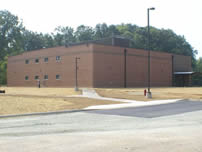 Design/Build P-147 Multi-Mission Maritime Aircraft Test Facility
Department of the Navy, Naval Air Station, Patuxent River, Maryland
OVERVIEW
The P-147 project involved the DOD AT/FP compliant design and construction of a state-of-the-art, environmentally efficient research/testing facility associated with the Navy's prototype Poseidon Multi-Mission (P-8) aircraft development effort. All work was performed at the highly secure and occupied NAS Patuxent River installation, directly supported the P-8 development effort, and was critical to the program's test-data analysis and research operations.
The John C. Grimberg Co. (Grimberg) served as prime contractor and developed a comprehensive fast-track schedule and phasing plan to ensure that the facility—a critical component in the prototype P-8 aircraft development schedule—was delivered on time and to the Navy's exact specifications.
NOTABLE FEATURES
Grimberg's work included the design and construction of extensive flexible office and operations areas, conference rooms, bathrooms, entrance/reception and storage areas, mechanical and communications rooms, stairwells, and ADA compliant handicapped access areas, as well as the installation of advanced life safety systems, including fire protection and mass notification units, and multiple reinforced secure areas designed to store secured and classified information and equipment.
The project also featured advanced electrical, plumbing, sprinkler/alarm, and mechanical and HVAC systems, including state-of-the-art energy conservation controls, a large roof-top HVAC unit, and associated heating and cooling equipment, as well as the installation of mission-critical fiber-optic and additional communications lines and systems (each integrated with the P-8 program's adjacent hangar operations).
Additional design/build-related work involved exterior site analyses, including site surveys and geotechnical reports, comprehensive interior and exterior architectural finish work and interior design plans, roofing systems development, space planning, furniture and equipment layout, post-analyses site work, including excavation, demolition, parking lot development, landscaping, perimeter security features, and civil site utilities design, including electrical expansion lines and utility protection.