Halsey Field House, United States Naval Academy, Annapolis, Maryland
A General Contractor Serving Washington, DC Metropolitan Area Since 1951
2007 AGC Merit Award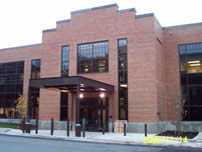 Building 175: Medical/Dental Clinic Conversion/Renovation
Department of the Navy, Washington Navy Yard, Washington DC
OVERVIEW
The Building 175 project involved the complete interior demolition and renovation of a two-story office and laboratory facility at the heavily occupied Washington Navy Yard in Washington DC. The completed facility includes extensive laboratories and laboratory equipment, sensitive materials storage areas, associated office and support spaces, and mechanical, telecommunications, and laboratory gas equipment rooms throughout.
The John C. Grimberg Co. (Grimberg) served as the prime contractor for the conversion and renovation of Building 175. The contractor mitigated over eight months of delay associated with differing site conditions and late design changes to deliver this highly sensitive project on time, within budget, and to the Navy's adjusted requirements.
NOTABLE FEATURES
Grimberg performed the renovation throughout an occupied and extremely confined space environment with limited staging areas. This required highly detailed facility protection plans (including matching brick and masonry finish work) as well as comprehensive public and local area safety measures.
Notable work involved the interior (and partial exterior) demolition of an existing facility as well as significant structural renovation work, including substantial concrete foundation development, the erection of new intermediate flooring with a concrete deck, modifications to the building penthouse, and structural steel framing across the front of the facility and on each side of the building. Work also included the complete renovation of the existing facility's HVAC, telecommunications, electrical, mechanical, plumbing, and facility-wide fire protection (detection and suppression) systems.
The HVAC systems work specifically included the installation of high quality, laboratory-grade temperature controls (including mission-critical controls for sensitive materials storage) and multiple air handling units, the complete renovation of the facility's ductwork and process piping systems, laboratory-grade air filtration measures and exhaust/air purge system upgrades, chiller and cooling tower systems installation, and associated equipment.
The completed facility was outfitted with multiple, state-of-the-art laboratories (and associated equipment), including medical/dental examination rooms, processing laboratories, three surgical centers, an oxygen-to-recovery room, numerous nurses stations, and multiple perio, endo, x-ray, and radiology lab facilities (thirteen in total). Laboratory equipment included facility-wide medical gas systems; compressed air and vacuum systems; 27 dental chairs and associated equipment; and medical casework and instrumentation.