Halsey Field House, United States Naval Academy, Annapolis, Maryland
A General Contractor Serving Washington, DC Metropolitan Area Since 1951
2007 AGC Merit Award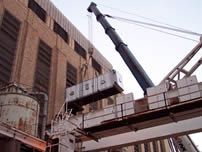 Replacement of Economizer #4
General Services Administration, Central Heating and Refrigeration Plant, Washington DC
OVERVIEW
The Central Heating Plant in Washington DC has been in service since the 1930s. The John C. Grimberg Co. (Grimberg) partnered with the GSA to replace the facility's economizer #4 and associated multi-story breeching with a state-of-the-art and energy efficient system.
Serving as prime contractor, Grimberg successfully executed the demolition of the existing economizer and five stories of associated breeching – a significant logistical effort that also required extensive project coordination efforts, as well as comprehensive facility protection and occupant/public safety plans.
NOTABLE FEATURES
Grimberg performed all work in a confined space environment with limited interior access; once demolition and removal of the multi-story equipment was complete, the new economizer and associated breeching had to be installed through a ten foot wide window on the fourth floor of the building – a significant obstacle.
Grimberg successfully and safely set the new economizer into position through the access point at the fourth floor. Thereafter, the contractor connected new breeching and installed new boiler feed water piping, control work, instrumentation, and associated insulation.