Halsey Field House, United States Naval Academy, Annapolis, Maryland
A General Contractor Serving Washington, DC Metropolitan Area Since 1951
2008 AGC Washington Contractor Award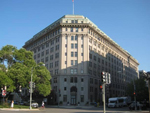 Renovation of the Homeowners Loan Corporation (HOLC) Building
General Services Administration (GSA), Washington DC
OVERVIEW
The Renovation of the Homeowners Loan Corporation (HOLC) Building was a major, multi-phased mechanical renovation and security upgrade project spanning a four-year period. Following the terrorist attacks of September 11, 2001, the General Services Administration (GSA) identified the HOLC building as a priority for major security upgrades due to the high risk of potential terrorist attacks.
The John C. Grimberg Co. (Grimberg) served as the prime contractor for the implementation of the GSA's new blast-resistant exterior design. The contractor concurrently updated the mechanical systems of the 1930s-era HOLC building, bringing it into compliance with new energy-efficiency standards for federal buildings.
Notable Features
The HOLC Building contract included the installation of 1,200 custom-fabricated, blast-resistant windows, a new mechanical plant with two 300-ton chillers, eight new air handling units (AHUs) in the penthouse, stainless steel rooftop cooling towers, and a variable prime pumping system with a single set of pumps. The contractor installed a temporary 15,000 cubic feet per minute AHU to allow for the replacement of the building's eight AHUs without interruption to the building systems. All equipment was replaced with high-efficiency units to bring the building into compliance with federal regulations.
Grimberg completed demolition of the existing mechanical plant, which extended from the basement to the penthouse, without interruption to the facility's operation. The company also removed asbestos and lead and installed a new building automation system, integrated building control systems, and a command center in the main offices to allow control of the mechanical plant and of independent heating and cooling systems.