Halsey Field House, United States Naval Academy, Annapolis, Maryland
A General Contractor Serving Washington, DC Metropolitan Area Since 1951
2008 AGC Washington Contractor Award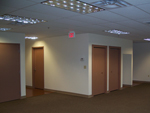 Emergency Response Facility Renovation
Maryland Air National Guard, Ft. Mead, MD
OVERVIEW
The Emergency Response Facility Renovation transformed a dilapidated World War II-era vehicle maintenance building into a state-of-the-art alert facility for the 32nd Civil Support Team, a member of the Maryland Army National Guard Joint Forces Headquarters. The team supports civil authorities during domestic chemical, biological, radiological/nuclear and explosive (CBRNE) incidents by identifying CBRNE agents/substances, assessing current and projected consequences, advising on response measures, and assisting with appropriate requests for additional state support.
The John C. Grimberg Co. (Grimberg) served as prime contractor on the design/build contract, partnering with the Alphatec, pc design firm to develop a comprehensive work plan and value engineering solutions designed to complete the project within the owner's very limited budget.
Notable Features
The Grimberg/Alphatec team performed comprehensive design and renovation/construction work throughout the 14,580-square-foot building. The entire interior of the building was gutted, leaving the historic brick and wood structure and exterior façade intact. Grimberg then designed and constructed offices, training areas, kitchenette and break areas, and vehicle maintenance spaces for emergency response vehicles, as well as replaced all interior utilities and installed energy-efficient window and HVAC systems, including extensive ductwork and natural gas piping.
The contractor also added new state-of-the-art telecommunications and data systems, as well as two secure Secret Internet Protocol Router Network (SIPRNET) rooms, a complex sprinkler and fire alarm system, and new electrical service.