Halsey Field House, United States Naval Academy, Annapolis, Maryland
A General Contractor Serving Washington, DC Metropolitan Area Since 1951
2008 AGC Washington Contractor Award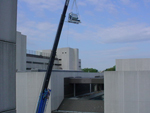 Operation and Clinic Renovation, Building 9
National Naval Medical Center, Bethesda, MD
OVERVIEW
The renovation of Building 9 upgraded major mechanical systems throughout the primary hospital facility at the National Naval Medical Center in Bethesda, MD. The John C. Grimberg Co. (Grimberg) served as prime contractor on the project. All work was performed in a sensitive and occupied facility, which serves patients ranging from high-level military officers to the president of the United States.
Renovations completed during the contract included critical systems serving primary patient care areas of the prominent medical landmark.
Notable Features
Grimberg renovated 22 air handling units (AHUs) located in three mechanical spaces of the main hospital, as well as all associated ductwork, controls, and other related system components. Primary renovation locations were the third floor mechanical rooms that serve the building's operating rooms, recovery rooms, and intensive care units. An additional mechanical space was located in the basement of the facility.
Grimberg carefully scheduled and coordinated all work to maintain system operations during the renovation and replacement of each unit, ensuring that the facility remained operational at all times. Grimberg took AHUs serving highly sensitive areas off-line and temporarily replaced them with provisional units to serve these spaces (i.e., while Grimberg renovated the existing AHUs). The contractor seamlessly coordinated the alternations, completing the renovation of each of the 22 units individually and ahead of schedule, without affecting facility operations.
Moreover, to provide for the full operation of the medical facility, Grimberg also moved all mechanical equipment during the night—when occupancy was at its lowest—and also used cranes to install some equipment in the third floor mechanical rooms, thereby avoiding disruption to highly-occupied areas. Demolished and new materials were also moved during the night as part of the coordination effort to ensure that there was little or no appearance of substantial mechanical work taking place in close proximity to the operating and recovery rooms.