Halsey Field House, United States Naval Academy, Annapolis, Maryland
A General Contractor Serving Washington, DC Metropolitan Area Since 1951
2009 AGC Washington Contractor Award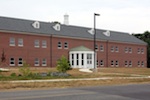 Design/Build Staff Non-Commissioned Officers (SNCO) Academic Facility
Department of the Navy, Marine Corps University, Quantico, Virginia
OVERVIEW
The Staff Non-Commissioned Officers Academic Facility at Marine Corps University was a major design and construction project requiring careful coordination with both the Department of the Navy and Marine Corps University. The facility provides crucial education and training to U.S. military personnel, Non-Commissioned Officers (NCOs), and allied international students.
The John C. Grimberg Co. (Grimberg) served as the prime contractor for the design/build construction of the SNCO facility. The contractor teamed with an outstanding design partner and incorporated changes to the facility that resulted in significant cost savings for the Navy, as well as improved overall aesthetics.
Notable Features
Since the SNCO Facility is a 45,000-square-foot educational and administrative building for the future NCOs of the military, Grimberg constructed the lobby in a manner that proudly displays the various ranks of NCOs etched in glass. Specialized display cases exhibit historic Marine Corps NCO memorabilia. The contractor also constructed two large lecture halls and multiple classrooms with state-of-the-art audio visual equipment. Grimberg installed remote operated projection screens in each lecture hall, which neatly recess into the ceiling when not in use.
The SNCO Facility is a LEED-certified, two-story building with two mechanical rooms; one on the first floor and one in the attic. Grimberg constructed mechanical systems such as boilers, an outdoor air cooled chiller, two air handling units and multiple fan coil units. The structure consists of cold-metal framing with brick veneer and blast windows, as well as structural steel and concrete decks.