Halsey Field House, United States Naval Academy, Annapolis, Maryland
A General Contractor Serving Washington, DC Metropolitan Area Since 1951
2009 AGC Washington Contractor Award and 2009 CMAA Project Achievement Award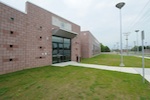 Library of Congress Archival Facility (Book Storage)
U.S. Army Corps of Engineers, Fort Meade, Maryland
OVERVIEW
The Library of Congress houses many of its sensitive materials in storage facilities on the 100-acre Congressional Campus within the highly-secure Fort Meade Army Base in Maryland. As part of this project, the Library of Congress sought to upgrade its facilities, calling for the phased new construction of 13 high-bay storage modules.
The John C. Grimberg Co. (Grimberg), serving as the prime, general, and mechanical contractor, completed construction of Modules 3 & 4 in 2009. The contractor was responsible for construction management, project oversight, subcontracted trades, and the nearly 30% of the overall work that was self-performed. Grimberg worked closely with the U.S. Army Corps of Engineers, the Architect of the Capitol, and the Library of Congress to successfully deliver this AGC and Construction Management Association of America (CMAA) award-winning facility.
Notable Features
Grimberg constructed the 44,000 square-foot, state-of-the-art, high-bay storage facility to house sensitive Library of Congress artifacts in temperature and humidity controlled areas. In particular, the contractor built four cold storage rooms and two additional high-bay storage modules to ensure that the Library's extremely valuable collections are held in precisely regulated atmospheric conditions.
In addition, Grimberg delivered multiple office and administrative areas, processing areas, a quarantine room, loading docks, a central corridor, and mechanical spaces. Other notable features included multiple mechanical systems to maintain strictly controlled atmospheric conditions, a highly advanced fire protection system to protect the facility's rare and delicate contents, extensive shelving systems, extensive custom-manufactured filing storage units, superflat concrete floors, complex controls, and all necessary site work.