Halsey Field House, United States Naval Academy, Annapolis, Maryland
A General Contractor Serving Washington, DC Metropolitan Area Since 1951
2009 AGC Washington Contractor Award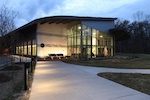 Clandestine Laboratory Training Center
Department of the Navy, Quantico, Virginia
OVERVIEW
The AGC award-winning, 32,000-square-foot Clandestine Laboratory Training Center contains specialized analytical research laboratories, training areas, and laboratory mock-ups for manufacturing illicit drugs for the Navy's training and identification purposes.
The John C. Grimberg Co. (Grimberg) served as prime, general, and mechanical contractor, successfully completing construction work on the Clandestine Laboratory at the Marine Corps base in Quantico. The contractor seamlessly incorporated specialized laboratory and training areas into an architecturally impressive building intended to convey U.S. commitment to the "War on Drugs."
Notable Features
Grimberg constructed the Clandestine Laboratory with flexible multimedia-capable classroom space for training purposes. The facility included laboratory space, "mock" laboratory space, a tactical training facility, a physical training room, a firearms simulation training room, and a unique "smoke" room where training in full gear is conducted simulating fire and dense smoke conditions.
Other features and systems of the building include state-of-the-art security, data, telecommunications, and audio-visual training systems, as well as highly energy efficient HVAC systems installed to strict quality control and commissioning standards. The contractor also installed expansive AT/FP provisions, including curtainwall glass and glazing (to allow large amounts of daylight to illuminate the facility), along with a comprehensive fire alarm system and electrical service.
Grimberg executed practical architectural finishes, including durable epoxy flooring in physical training areas and the analytical laboratory, carpet in classrooms and administrative areas, and high-end terrazzo tile flooring in the lobby and corridors.