Halsey Field House, United States Naval Academy, Annapolis, Maryland
A General Contractor Serving Washington, DC Metropolitan Area Since 1951
2010 AGC Washington Contractor Award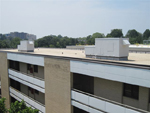 Design/Build Building 50 Medical Hold and Bachelor Enlisted Quarters Renovation
Department of the Navy, National Naval Medical Center, Bethesda, Maryland
OVERVIEW
Building 50 is a temporary living facility for soldiers and other military personnel undergoing post-hospitalization treatments, physical therapy, or observation as part of the Department of Defense's combat casualty after-care program.
The John C. Grimberg Co. (Grimberg) served as the prime, general, and mechanical contractor, and delivered a complete, design/build renovation of the facility's mission-critical HVAC systems, to include work in multiple wings and on multiple floors, areas of which included temporary medical quarters for bachelor enlisted personnel, as well as large mechanical and storage spaces.
Because the facility is such a critical part of the National Naval Medical Center's overall ability to care for, support, and rehabilitate wounded service men and women, maintenance of ongoing operations (without exception and without interruption), including the critical rehabilitation efforts ongoing at the facility, was essential.
As such, Grimberg established strict schedule and safety/personnel protection plans, coordinated with facility occupants on a daily basis to ensure that occupants remained comfortable and unaffected by construction, and divided the work into six phases—a sensitive logistical effort.
Notable Features
Grimberg replaced existing fan coil units and ductwork throughout the facility, as well as installed state-of-the-art temperature controls and replaced aging air-handling units with advanced roof-top units. Work also included replacement of existing piping systems with new chilled and hot water supply and return lines, mold abatement, and interior and exterior architectural repairs.
Because facility personnel would have to relocate patients according to Grimberg's phasing schedule, it was essential that the contractor deliver all work correctly the first time, such that patients could occupy recently renovated portion of the facility without risk of follow-up work.
Accordingly, Grimberg treated each phase as an independent project, commissioning and finishing all work to ensure that it would not have to return to newly renovated and occupied living areas.