Halsey Field House, United States Naval Academy, Annapolis, Maryland
A General Contractor Serving Washington, DC Metropolitan Area Since 1951
2010 AGC Washington Contractor Award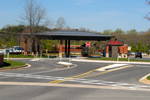 Defense Logistics Agency Headquarters Gate Security Enhancements
US Corps of Engineers, Defense Logistics Agency Headquarters, Fort Belvoir, Virginia
OVERVIEW
The Defense Logistics Agency (DLA) gate security enhancements project involved exterior security upgrades for the headquarters of the nation's combat logistics and support unit, a project with significant national security-related implications. The project was designed to improve ingress security to the Headquarters site, as well as to ease traffic patterns to and from the facility.
The John C. Grimberg Co. (Grimberg) served as the prime, general, and mechanical contractor, and installed state-of-the-art entrance gate barriers at multiple site entrance points, while addressing significant unforeseen site conditions and severe delay-inducing weather events as well.
Notable Features
The project involved the installation of state-of-the-art entrance gate barriers, to include two net and four beam barriers, a trespassing vehicle entrapment system, and associated gate operations controls, all designed to protect the nation's combat logistics support headquarters from vehicular attack.
Grimberg also constructed new entrance roadways, new gate canopies and security officer gatehouses, surveillance equipment, and electronic controls.
The company phased all work to maintain site ingress and egress requirements without interruption, developed a critical ingress/egress traffic management plan (primarily for emergencies), and constructed temporary roadways during construction.