Halsey Field House, United States Naval Academy, Annapolis, Maryland
A General Contractor Serving Washington, DC Metropolitan Area Since 1951
2010 AGC Washington Contractor Award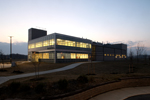 Chemical, Biological, and Radiological Sample Receipt Facility
U.S. Army Corps of Engineers, Aberdeen Proving Ground, Maryland
OVERVIEW
The Sample Receipt Facility is a new, multiple-occupant chemical, biological, and radiological munitions testing and investigative laboratory facility, critical to the nation's counter-terrorism efforts and designed to improve its ability to address potential weapons of mass destruction attacks.
The facility is the only national resource capable of receiving, triaging, sampling, and screening munitions arriving from anywhere in the world—and, as such, is a landmark operations center.
The John C. Grimberg Co. (Grimberg) served as the prime, general, and mechanical contractor. The company installed state-of-the-art laboratories with specialized equipment, to support each agency's processes and needs, and delivered the complex infrastructure necessary to support all operations.
Notable Features
The anti-terrorism/force protection-compliant facility features cutting-edge laboratories (including two Biological Safety Level-3 sample analysis laboratories) and an explosive chamber for the receipt and triage of explosively-configured samples.
Grimberg incorporated a processing bay and triage laboratory for the deactivation of biological samples, as well as life-saving remote detonation, air exhaust, and negative-pressure carbon filtration systems, and process control and monitoring systems.
Of particular note, the project also involved the installation of specialized, double-walled, explosives-grade HYLAR process piping, a state-of-the-art blast-resistant sample receipt room, and a monitoring room with real-time chemical agency monitoring equipment.
Additional work features included engineering controls, emergency generator power backup, advanced security and access control systems, communication centers, office and operations areas, and energy management and control systems.