Halsey Field House, United States Naval Academy, Annapolis, Maryland
A General Contractor Serving Washington, DC Metropolitan Area Since 1951
2010 AGC Washington Contractor Award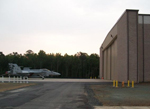 Design/Build P-558 Aircraft Prototype Facility
Department of the Navy, Naval Air Station, Patuxent River, Maryland
OVERVIEW
A design/build, LEED-certified new construction located at the Naval Air Warfare Center Aircraft Division (Naval Air Station Patuxent River, MD), the P-558 Aircraft Prototype Facility is a first-of-its-kind and landmark aircraft research, development, testing, and evaluation (RDT&E) facility.
The John C. Grimberg Co. (Grimberg), served as prime, general, and mechanical contractor.
Critical to the Nation's defense, P-558 provides the Navy with start-to-finish RDT&E services designed to modify aircraft with prototype systems and equipment related to combat survivability, sensors, electronic warfare, weapons, and low observable systems and subsystems, and then test and evaluate these systems before releasing them for operational use.
Most-critically, the facility allows the Navy to perform these RDT&E operations under one roof, and therefore to develop, test, and release advanced aircraft technology and modifications more efficiently and effectively. It also allows the Navy to reduce mission-critical gaps in its weapons platforms—all key elements in the military's ability to protect its personnel and defend the nation.
Notable Features
Notable project and facility features include the following highlights:
Aircraft prototype testing and evaluation laboratories
Type I hangar for aircraft modification activities
State-of-the-art aircraft modification and testing equipment
Secure Compartmented Information Facilities (SCIFs)
Advanced Aqueous Film-Forming Foam (AFFF) fire suppression system (designed to rapidly extinguish hydro-carbon fuel fires)
Blast resistant construction, including blast-resistant glazing
Operations and administrative spaces
Classified research and testing areas
Of particular note, the contractor worked closely with its design partner and the Navy to value engineer the specification, while maintaining compliance with all construction requirements. This effort reduced the Navy's costs—with no sacrifice to quality.