Halsey Field House, United States Naval Academy, Annapolis, Maryland
A General Contractor Serving Washington, DC Metropolitan Area Since 1951
NAIOP Northern Virginia Award of Excellence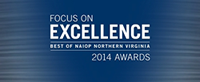 Bailey's Upper Elementary School for the Arts and Sciences, Falls Church, VA

NAIOP Northern Virginia (Commercial Real Estate Development Association) was chartered in 1980 by a group of local developers. Governed by a Board of Directors and Executive Committee, which is elected annually, NAIOP Northern Virginia's professional staff is located in Alexandria, Virginia. With 52 NAIOP chapters in North America, the NAIOP Northern Virginia is one of the largest with over 900 members.
Best Building Repositioning Adaptive Re-Use:

Award of Excellence for Bailey's Upper Elementary School for the Arts and Sciences, submitted by Cooper Carry, Inc. Team members included: Fairfax County Public Schools and John C. Grimberg. Bailey's Upper Elementary is located in Seven Corners.