Halsey Field House, United States Naval Academy, Annapolis, Maryland
A General Contractor Serving Washington, DC Metropolitan Area Since 1951
2004 Merit Award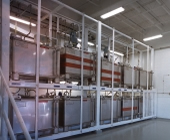 Munitions Assessment and Processing System (MAPS) Facility
U.S. Army Corps of Engineers, Aberdeen Proving Ground, Aberdeen, Maryland
OVERVIEW
The Munitions Assessment and Processing System (MAPS) Facility project involved the construction of a landmark 20,000-square-foot weapons processing and disposal facility at Aberdeen Proving Ground in Maryland. The facility is designed to house Army operations related to the testing, processing, and disposal of chemical, biological, and radiological munitions.
The John C. Grimberg Co. (Grimberg) was prime contractor, and served as both general and mechanical contractor for the project. The company self-performed all mechanical work, successfully managed over 25 subcontractors, coordinated with the Corps and the end user (the U.S. Army Chemical Materials Agency), and maintained total project coordination and oversight.
NOTABLE FEATURES
The entire MAPS facility is blast resistant and includes administrative functions, scientific research facilities, and fire protection systems. Grimberg constructed sensitive laboratories that included extensive heating and air conditioning, chiller, electrical and lighting, and mechanical systems installation, isolated concrete flooring, and compressed air.
Central to the MAPS facility's design are its advanced laboratory systems which incorporate sophisticated mechanical systems, including specially-designed carbon and centrifuge air filters, differential air pressure ventilation systems, fume hoods, and a state-of-the-art, 5,000-point, 100%-redundant control system.
The project also required significant site preparation, including extensive unforeseen work to locate and abate previously undetected underground unexploded ordnance in the work area, as well as the development of facility infrastructure, including the paving of access roads and parking lots, a stormwater management system, and connections to water, sanitary sewer, and other site utilities.
Additionally, the MAPS facility provides access for disabled individuals and incorporates Department of Defense anti-terrorism features, including laminate glass and rated exterior doors.